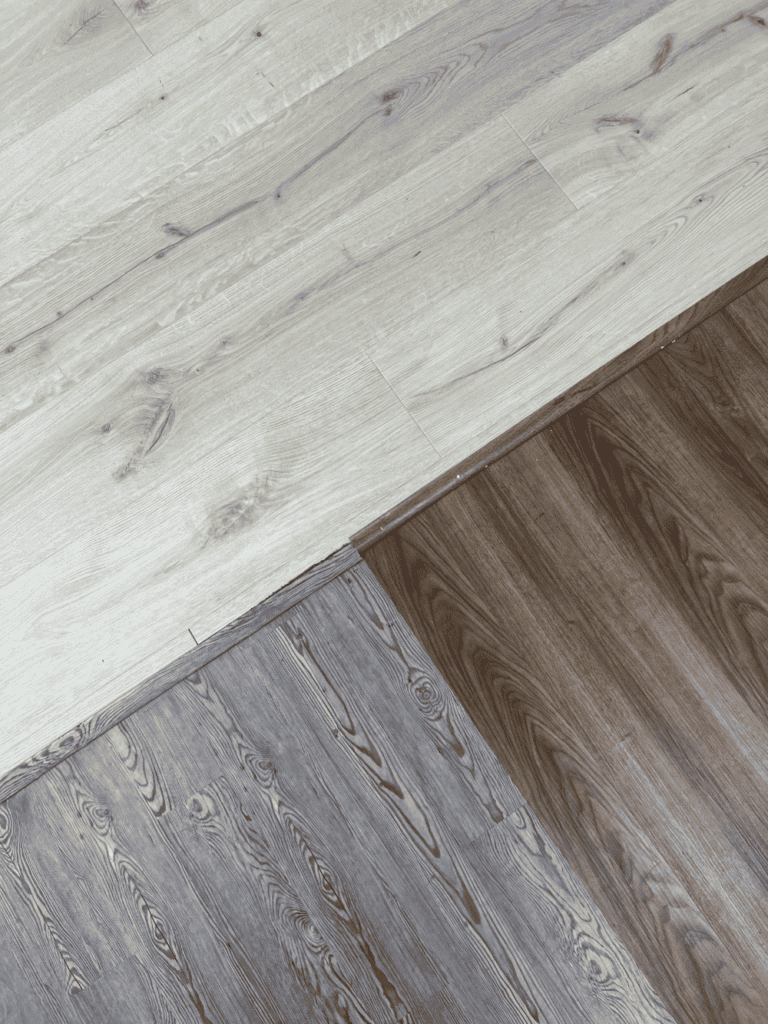 When it comes to choosing the perfect flooring for your home, a "one-and-done" solution doesn't always make sense, and, frankly, it can be a bit boring.
In most homes, you'll find different flooring as you move from room to room. Each space has unique needs. Bathrooms, kitchens, and laundry rooms typically need waterproof and durable flooring, such as tile or laminate flooring. But for other spaces, like your bedroom or living room, you might want warmth and comfort, so a carpet or warm-toned hardwood flooring are likely contenders. 
When this is done well, it creates a seamless design while still allowing for separate spaces. When done incorrectly, however, the change in flooring can look odd and may even create a tripping hazard at the thresholds.
However, seamless room transitions are easy to create when you follow simple guidelines for choosing the best floors for your space.
Choosing Your Floors 
If you are starting from scratch, decide on your primary flooring—whether that be hardwood, laminate, tiles, vinyl, or carpet.
If you are going to renovate one room only, creating a seamless room transition is a big consideration. So, what questions should you ask yourself, or your Eastman's design specialist, to create a seamless or interesting transition? 
What are the needs of my space? 
To narrow down your choices, you should first consider the purpose of the space. What you plan to do in a room is important in determining the right kind of flooring. Is it a living room that doubles as an at-home game room? You may want carpet or engineered hardwood flooring that absorb sound but are durable enough for a high-traffic area.
Will the room be exposed to a lot of moisture? It may be beneficial to consider waterproof options, like laminate or vinyl. (Check out our waterproof FloorDash luxury vinyl plank options). Do you want your bedroom to feel warm and cozy, but need a smooth surface for your corner home office? A warm-toned hardwood or wood-appearing laminate would be a great option to explore. 
As you determine your wants and needs for the spaces you are flooring, narrow down your choices to solutions that will work best. That will help you find complementary flooring and the right transitions.
What color flooring should I choose? 
There are a few things to consider when selecting colors for your flooring transition. First, consider the color of your primary or existing floor. If it's wood or has a wood-like appearance, what are the undertones? Is it a warm brown, or is it a cool gray? Is the flooring dark, light, or an in-between shade? Is it a solid color, composed of multiple colors, or shades of the same color? These questions will help you determine what color your secondary flooring should be. 
It's best to err on the side of complementary, but not identical. When you try to make an exact color match you might end up with a "not quite" match that looks obvious and awkward. It's better to choose a color that's complimentary with similar undertones to avoid clashing colors and materials for your transition piece. Similar but different is a good rule to follow as you create your room transition. 
Do I need a transition strip? 
Floor transition strips are a piece of flooring material that covers the edge between one space and the next. Specifically, a transition strip (t strip) has construction adhesive to link one kind of floor to another.
Although a transition strip is often made of wood, they also come in a metal strip, aluminum strip, or vinyl strip. If you chose floors of the same material, like two different types of hardwood floors, you may not need a transition strip.
However, if your floors are different materials, like carpet and laminate, you will need transition strips to account for varying floor heights in the rooms and to smoothly transfer from one of the flooring types to the next, such as hardwood flooring or engineered wood flooring.
Make the transition irregular: A bolder idea:
Open floor plans are very popular today, all the rooms mixed in one is a regular thing. You can accentuate your areas using various space dividers, accents, and floor covers (We have an amazing area rug collection).
Tiles in the kitchen, wood in the living room, vinyl plank in the entryway – you can make a smooth transition that is also a design statement. Here are just a few ideas.
Design your floor so the switch is in a shaped, curved, or diagonal line instead of something straight and right-angled. Cut your wooden floors to match edge of the tile, whether it's square, hexagonal or any other else, and you'll get a stylish and eye-catchy transition that will accentuate different zones in your home.
Don't sacrifice your style
Above all else, the best room transition is one made with two floors you love. Be sure to choose a flooring that fits not only the needs of you and your space, but also suits your taste and design aesthetic. If you go with your gut (and expert advice)  when transitioning floors, there are ways to seamlessly transition any two floor options.
Best of all, Eastman's Carpets & Flooring has design and installation specialists that will make your flooring choices and transitions foolproof. Just give us a call!